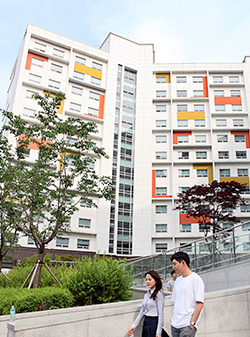 Housing Options
Dormitory
Students must reside in the dormitory if they selected dormitory as their housing option on the initial application form for exchange in CAU.
Students who are granted free housing must reside in the dormitory, according to the agreement between CAU and students' home institutions.
Students should comply with all the dormitory rules.
Dining schedules, dormitory events, and relevant rules are posted on the bulletin boards. You may also ask supervisors for information.
Those who are exempted from the dormitory fee still have to pay for their meals.
Seoul Campus Dormitory Information
Blue Mir Hall
Future House
Rooms
Wi-fi, LAN internet services, phone lines, and bathroom
Facilities
water purifier, ice dispensers, refrigerators, microwaves, vending machines, computers, printers, TV, couches, tables, laundry room, ATM (Woori bank), cafe, convenience store, mail room, dining hall, and fitness center
water purifier, ice dispensers, refrigerators, microwaves, vending machines, computers, printers, TV, couches, tables, laundry room, and mail room
Address

Men's Dormitory:
84 Heukseok-ro, Dongjak-gu, Seoul, South Korea
Blue Mir Hall, Building A, Rm# (Your room #)
Zip code: 06974
서울시 동작구 흑석로 84 중앙대학교 블루미르 홀 A동
(Your room #)호
우편번호 06974
Women's Dormitory:
84 Heukseok-ro Dongjak-gu, Seoul, South Korea
Blue Mir Hall, Building B, Rm# (Your room #)
Zip code: 06974
서울시 동작구 흑석로 84 중앙대학교 블루미르 홀 B동
(Your room #)호
우편번호 06974

Magil 21, Heukseok-ro 13, Dongjak-gu, Seoul, South Korea
Future House, Rm# (Your room #)
Zip code: 06910
서울시 동작구 흑석로 13 마길 21 퓨처하우스
(Your room#)호
우편번호 06910
Anseong Campus Dormitory Information
Anseong Campus Dormitory
Rooms
Wi-fi, LAN internet services, phone lines, and bathroom
Lounge Facilities
TV, microwaves, vending machines, study room, and computer lab
Campus Welfare Center Facilities
gym, stationery store, cafeteria, badminton court, tennis court, and basketball court, and golf course (next to Myeongdeok 2-dong)
Address

Men's Dormitory:
4726 Seodongdae-ro, Daedukmyun, Anseong City, South Korea
Yeji 2-dong, Rm# (Your room #)
Zip code: 17546
경기도 안성시 대덕면 서동대로 4726 중앙대학교 기숙사 예지2동 (Your room #)호
우편번호 17546
Women's Dormitory:
4726 Seodongdae-ro, Daedukmyun, Anseong City, South Korea
Myeongdeok 2-dong, Rm# (Your room #)
Zip code: 17546
경기도 안성시 대덕면 서동대로 4726 중앙대학교 기숙사 명덕2동 (Your room #)호
우편번호 17546