Climate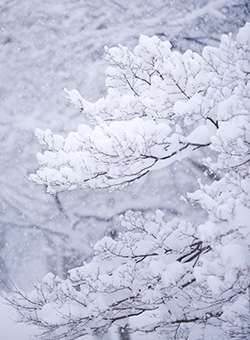 South Korea tends to have a humid continental climate and a humid subtropical climate, and is affected by the East Asian monsoon, with precipitation heavier in summer during a short rainy season called jangma, which begins end of June through the end of July.
Winters can be extremely cold with the minimum temperature dropping below ?20 °C in the inland region of the country: in Seoul, the average January temperature range is ?7 °C to 1 °C (19 °F to 33 °F), and the average August temperature range is 22 °C to 30 °C (71 °F to 86 °F).
Winter temperatures are higher along the southern coast and considerably lower in the mountainous interior.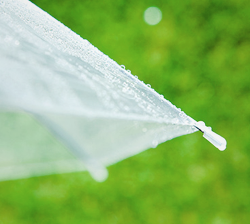 Summer can be uncomfortably hot and humid, with temperatures exceeding 30 °C in most parts of the country. South Korea has four distinct seasons; spring, summer, autumn and winter.
Spring usually lasts from late-March to early- May, summer from mid-May to early-September, autumn from mid-September to early-November, and winter from mid-November to mid-March.
Banking
You will easily find Korean and foreign banks in Seoul. You can use most international credit cards, such as Visa, Mastercard, or Diner's Club, in the city. It is strongly suggested that you open a bank account at Woori Bank's CAU branch, which is located in the Student Union building. Opening an account is easy and free of charge. You only need to fill out a form and to present your passport. You will then receive a debit card (NOT a credit card or international payment card) that you can use for withdrawing/depositing money at an ATM. You will also receive a deposit book, where you can record all your banking transactions. For the foreigners in Korea, however, the procedure for obtaining a credit card is complicated. You can do all kinds of transactions at the bank, such as money transfer, exchange, cash withdrawal, and bills payment. When you go to the bank, take a waiting ticket and wait for its number to be called. Occasionally, you will have to be extremely patient because you may have to wait for several hours for your turn, particularly at the beginning of the semester, when students come to pay their tuition. Lunchtime is also a busy time at the bank. Try to avoid these busy hours
Banking hoursMonday to Friday, 09:30-16:30
ATM
Cash is widely used, for which reason ATMs are easy to find, many of which accept foreign credit cards. It may be difficult, however, to find a machine that accepts foreign debit cards. Such machines can be found, though, at most subway stations.
Money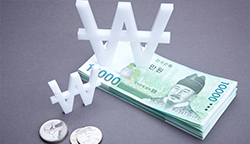 Denominations
The Korean currency is called "won." Both coins and bank notes are available: 10, 50, 100, and 500 for coins, and 1,000, 5,000, 10,000 and 50,000 for bank notes.
Currency Exchange
Foreign currency and traveler's checks can be exchanged into Korean currency at the banks in the airport, foreign exchange banks, and other authorized money exchange places. The exchange rate is subject to market fluctuations.
To find a daily updated currency converter, go to http://www.xe.net/ucc.
Cash is widely used, and debit cards (like the card you can get from Woori Bank) are more useful in certain places, like department stores, big shops, restaurants, and hotels.
There are no personal checks, but there are bank checks of 100,000, 500,000, and 1,000,000 denominations that can be used as notes. When using a bank check, you must show your ID card or passport and write down your personal information and contact number on the back of the check. Most shops in smaller towns, however, will not accept bank checks. You may also use dollars and yen in certain tourist areas, such as Itaewon and Insadong.
Visa, American Express, Diner's Club, and Mastercard are accepted at major hotels, shops, and restaurants in large cities. Contact your credit card company for merchant acceptability details and other available services. Be aware that your international credit card may not work with Korean ATMs; you are therefore recommended to always carry some cash with you in case you can't use your credit card.
Credit cards
Most major hotels, restaurants, and shops in the large cities in Korea accept foreign credit cards. As stated earlier, most ATMs also accept foreign credit cards. Acceptance may differ, however, depending on the credit card company and the credit card type. Therefore, it is recommended that you check with your credit card company before you leave your house, and that you always carry some cash with you in case your credit card won't be accepted by an establishment or an ATM.
Telephones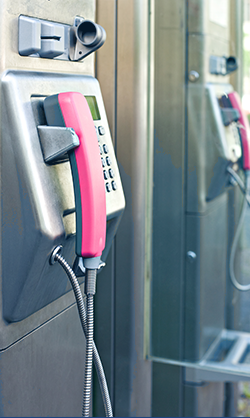 Korea boasts a well-developed telephone system for both domestic and international calls. For major cities, the telephone numbers consist of seven or eight digits. The country code of Korea is 82.
Public Phones
Public phone booths are located everywhere. Both coins (10, 50, and 100 denominations) and phone cards can be used. Phone cards with 2,000, 3,000, 5,000, and 10,000 denominations are sold in small shops, banks, post offices, etc. Credit card telephones are also available. The local call rate is 70 won per three minutes. A long-distance call costs considerably more. International calls can be made from any public phone, using a phone card. International and collect calls can also be made through the operator, by dialing 00799. For English-speaking operators and telephone directory assistance in Korea, dial 080-211-0114.
Cellular Phones (Hand Phones)
Cellular phones abound in Korea. Several companies offer cellular-phone services, and there are more cellular-phone users in the country than home phone users. 010, 011, 016, 017, 018, and 019 are the cellular-phone numbers being operated by different companies. The rates vary depending on the company and plan. Using a cellular phone is much more expensive than using a public phone. Officially, foreigners are not allowed to register for cellular-phone services, but you may ask help from a Korean friend in relation to this matter.
How to rent a cellular phone
At Incheon International Airport, you can find several mobile-phone rental shops on the first floor (Gate 6 and 10).
To rent a phone, you need a credit card and passport, and you need to know how many months you will be using it.
To use the phone, you should buy a prepaid phone card (minimum load: 10,000 won). The rental charges as well as the phone rates vary depending on the company.
At a local cellular-phone store, you can activate a mobile phone using your Alien Registration Card and passport as well as a credit card
Transportation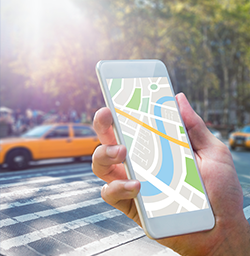 As a foreigner, you need an international driver's license to be able to drive in Korea. It will be better for you to get an international driver's license from your country and to bring it with you to Korea than to get one in Korea.
Seoul has a well-developed public transportation system. The brilliantly planned combination of taxi, bus, and subway services makes it possible to get around Seoul without any major difficulty. Keep in mind, however, that the traffic is very heavy during the rush hours and on special occasions (national holidays, summer vacation, etc.). Heavy traffic is reported to be the main problem faced by the people in Seoul.
Subway
The subway is fast, clean, and safe. Trains run from 6 a.m. to about midnight (the time may slightly vary depending on the station), at three- to seven-minute intervals. Cars have heating and air conditioning. The subway system covers nearly the whole city, and more new lines are being constructed. In addition, the subway links Seoul with major satellite cities, and Line #1 is connected to the Korean National Railroad (KNR). Each line has a different assigned color, and all the names of the stations as well as most of the signboards are written in both Korean and English. Announcements are made in both languages as well. Escalators and facilities for disabled people are available. Large subway maps are posted at each station as well as in the train. Neighborhood maps are posted near all the exits. The Seoul subway is great!
For more information on the Seoul subway system, visit www.seoulmetro.co.kr
Bus
Buses are numbered according to their routes. The system is quite complicated, though, since a same-numbered bus with a different color will bring you to a different place. Further, all the signs and announcements are in Korean, so the buses are somewhat difficult to use at first.
After some adjustment on your part, however, the buses may prove to be occasionally more convenient than the subway. Be careful, though, during the rush hours! Even though the buses use a special lane, heavy traffic can slow them down.
The fare can be paid in cash or with a transportation card. When you use the card, the amount is automatically deducted from it when it touches the card reader located next to the driver.
Empty cards can be recharged at bus stop booths. If you want to get off a bus, there are buttons on the bus wall or ceiling that you can press to inform the driver that you're getting off.
Taxis
Taxi fare is relatively cheap. The fare of regular taxi starts at 2,400 won. (around 2$), while deluxe taxi starts at 4,500 won(around 4$). If you have any luggage, you can ask a taxi driver whether the luggage can be placed in the taxi before you get into the cab.